What is Certification?
Forest certification is the certification of land management practices to a standard of sustainability. A written certification is issued by an independent third-party that attests to the sustainable management of a working forest. Forest certification gives consumers assurance that products they purchase originate from sustainably managed forests that protect economic, social and environmental benefits.
The American Tree Farm System certifies forest management to eight standards of sustainability.
What is third-party certification?
Third party certification is the auditing of a forest certification system by an outside, accredited certification body.

Each American Tree Farm System Region, Independently Management Group program, and individual third-party certificate holder is required to undergo an audit by a certification body accredited by an International Accreditation Forum (IAF) member organization such as the American National Accreditation Board (ANAB) or the Standards Council of Canada (SCC). Audit teams from these certification bodies will be examining on the ground conformance to the AFF Standards of Sustainability.


What is PEFC?
The American Tree Farm System has been endorsed by the Programme for the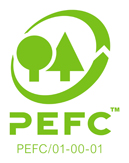 Endorsement of Forest Certification systems (PEFC) since 2008. PEFC is an independent, non-profit, non-governmental organization, founded in 1999 which promotes sustainably managed forests through independent third-party certification. PEFC provides an assurance mechanism to purchasers of wood and paper products that they are promoting the sustainable management of forests.
PEFC is a global umbrella organization for the assessment of and mutual recognition of forest certification systems in various countries around the world. There are 25 PEFC endorsed forest certification systems covering more than 200 million hectares of certified forests, making PEFC the world's largest forest certification system. Forest certification systems must go through a rigorous assessment process involving public consultation and the use of independent assessors to be considered for endorsement. Final endorsement is subject to a vote taken by the PEFC general membership. ATFS received its positive vote for endorsement from the PEFC membership on August 8, 2008.
Affliation with PEFC benefits certified Tree Farmers by opening doors to certified wood and forest benefits markets.