August 11, 2011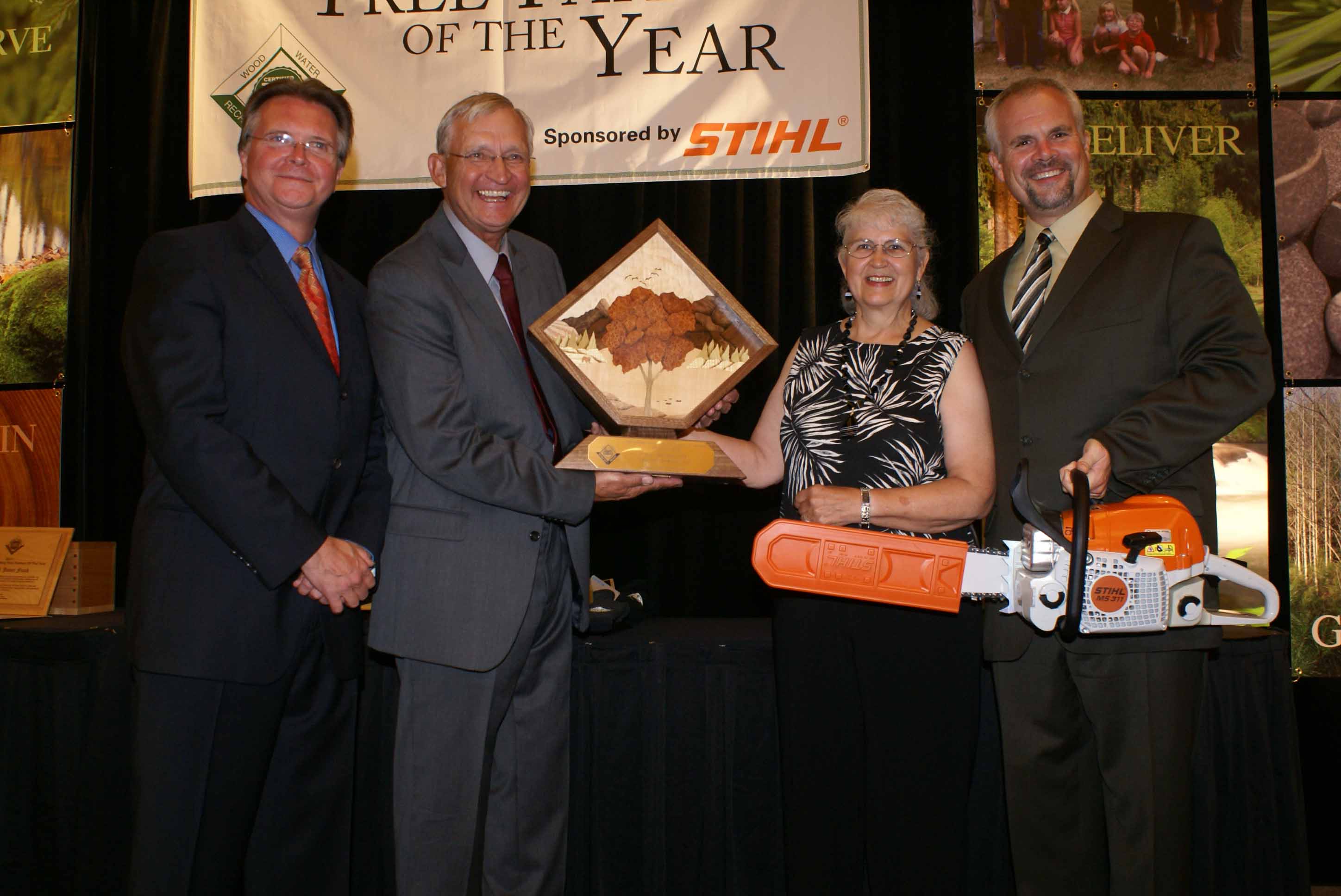 Thirty-seven years ago began the journey of sustainable forest management for Joseph "Steve" and Janet Funk of Coeur d'Alene, Idaho. Today, the Funks were named the 2011 National Outstanding Tree Farmers of the Year by the American Tree Farm System (ATFS) at their National Tree Farmer Convention in Albuquerque, New Mexico. The award, sponsored by STIHL, Inc., annually recognizes outstanding sustainable forest management on privately owned woodlands.
The Funks' Edgecreek Tree Farm is a 369-acre woodland that has become a valuable tool in demonstrating sustainable management of degraded forests and the pathway to a healthy and thriving forest.
Steve and Janet Funk began with a dream to live near the woods and streams of the West, where they might find opportunity to camp occasionally. Opportunities for jobs near Coeur d'Alene, Idaho, and for purchase of a derelict farm in a small mountain valley with a stream running through the property put the dream into their laps – and into reality.
"We believe that sustainably managing a healthy forest can only enhance its natural beauty and function. Enjoying the magnificence of the scenery is not only pleasurable to the eye, but also refreshes one's soul," declared Steve.
Since the early 1970s, the dynamo duo has advocated for responsible management, forest restoration, and environmental education. An oil pipeline rupture that contaminated Wolf Lodge Creek, which runs through their property, sparked their leadership of a community watershed effort to restore the creek as well as protect it from periodic floods.
Their management plans targeted planting more than 12,000 ponderosa pine seedlings, thinning an overstocked area, pruning of white pine, ponderosa pine, Douglas fir and larch, guard rail construction, and wildlife pond enlargement. Wolves, deer, elk, moose, black bear, cougar, coyote, badgers, turkeys, American bald eagles, blue heron, and woodpeckers are some of the wildlife inhabiting the property.
The years of family efforts by Steve, Janet, and their four children, Janelle, Steve, Tina, and David, have resulted in a healthier stand of trees that provides growth potential, a stable water absorption mechanism, habitat for a diverse wildlife population, and a place to share with hikers, hunters, and other wanting to commune with nature. "It is especially important that we let others experience the feelings that the forest can create. We have found peacefulness in the beauty and aliveness of the forest," said Steve.
"Since I was little, my parents have instilled a love for the forest. Now I am raising my family on the same Tree Farm and teaching my boys about the forest and how important it is to our future," said Janelle Funk Sells.
"Every year, the American Tree Farm System recognizes family forest owners like the Funks - examples by which ATFS grows stewardship from the roots. Families like the Funks are essential caregivers of our nation's private woodlands that provide the benefits we all receive from forests, including clean water, air, wildlife habitat, recreation, green jobs, and wood and paper products," said Liz Sandler, director of ATFS.
The American Tree Farm System represents nearly 90,000 private forest owners, who sustainably manage 26 million acres of forest land. Thanks to their stewardship, private forest owners provide multiple benefits to all Americans. More than 25 percent of the nation's fresh water flows from private forests and 60 percent of at-risk wildlife depend on private forests for habitat. Good paying jobs in rural communities are supported, and all of us enjoy the wood products generated by private forests, each and every day.
"The property I grew up on allowed me to witness an excellent example of working 'for' the land. My folks used every resource available to help them make forest management decisions. I am so proud of all their hard work and dedication to maintaining our family forestlands in the most healthy and robust state possible," said their son Steve.
Janet summarizes their woodland-based lives by admitting, "Our best hope for the future of sustainable forestry lies not just in how many people we or our children our grandchildren can reach. Rather, it is in how many people we can motivate enough to inspire them to pass these values on until it is normal for all of us want and to use environmentally sound practices."

Congratulations to the other 2011 Regional Outstanding Tree Farmers, sponsored by STIHL, Inc.:
Putnam "Put" Blodgett, 2011 Northeast Regional Outstanding Tree Farmer of the Year
Russ and Barbara Ford, 2011 Southern Regional Outstanding Tree Farmers of the Year
Walt and Donna Lange, 2011 North Central Regional Outstanding Tree Farmers of the Year
Pictured: Bob Simpson [ATFS], Steve & Janet Funk, Roger Phelps [Stihl, Inc.]
__________________________________________
The American Tree Farm System® (ATFS), a program of the American Forest Foundation, is a network of private woodland owners sustainably managing 26 million acres of forestland. It is the largest and oldest sustainable family woodland system in America, internationally recognized, meeting strict third-party certification standards. For 70 years, ATFS has enhanced the quality of America's woodlands by giving forest owners the tools they need to keep their forests healthy and productive.
STIHL Inc. is the exclusive presenting sponsor of the ATFS Outstanding Tree Farmer of the Year Regional and National Awards, as well as the sole, handheld outdoor power equipment provider for the ATFS.
STIHL Inc. manufactures the world's largest selling brand of chain saws and produces a full line of powerful, lightweight, and versatile handheld outdoor power equipment for homeowners and professional users. STIHL products are sold through servicing power equipment retailers from coast to coast— not mass merchants. STIHL products sold through U.S. STIHL dealers are for distribution in the United States only. For more information or for the name of the closest STIHL retailer call toll free 1-800-GO STIHL (1-800-467-8445) or visit the STIHL Web site at www.stihlusa.com.
# # #