Keeping Up with the Joneses
Marilyn and Desmond ("Des") Jones may both be in their 80s, but that hasn't slowed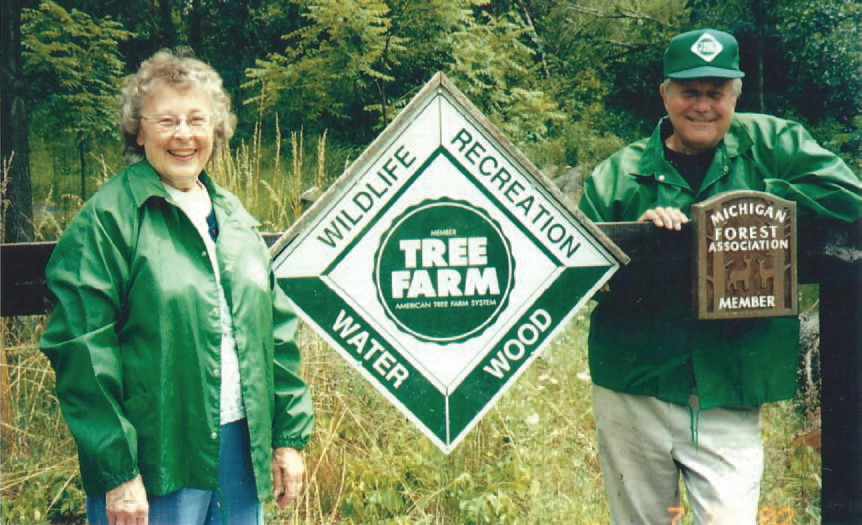 them down. The couple manages the 86-acre Centennial Acres Tree Farm near their home in Augusta, Michigan. Says Des: "I'll be 85 in October and I can still run a chainsaw with the best of them."
The Joneses are active participants in American Tree Farm System® (ATFS) activities. "Des and I have been to every Tree Farm Convention since those gatherings started—that's 20 conventions," Marilyn relates. "Being 'Every Timers' is a real point of pride with us!" This year, the couple brought four generations of their close-knit tribe—their sons and daughter, grandchildren and great-grandchildren—to the ATFS convention in Minneapolis.
"About six years ago, we started taking them all to the convention. They all participated in the sessions," says Marilyn. "Our plan is to keep our Tree Farm in the family. We hope to continue the legacy of forest management that the Tree Farm system offers," adds Des. The Jones family regularly gathers on their Tree farm for working, hunting and picnics. "The conventions have helped bond our family even tighter, and we've learned a lot. Every time we go, we pick up a little knowledge from people who have done things we haven't tried."
A New Path
Since his retirement in 1990 from his career as resident engineer for the Kellogg Company, Des has been able to devote all of his time to managing his land and to his work on behalf of Tree Farm. The Centennial Acres Tree Farm includes black walnut, cherry, oak, hickory, hard maple and red pine. "When we bought it in 1985
it was an unmanaged forest," Marilyn says. "It was never properly managed before we bought it, but we've always been interested in forestry and knew which direction we wanted to go. We got certified by Tree Farm in 1986." The Joneses were named Michigan Outstanding Tree Farmers of the Year in 2000.
In the subsequent years, their participation in ATFS educational programs led the Joneses to greater involvement in formal Tree Farm activities. "Des has made many trips to Washington on behalf of Tree Farm," says Marilyn, who is a real estate broker. Des served as chairman of the Michigan Tree Farm Committee for eight years, chaired the ATFS National Operating Committee from 2000 to 2003, chaired the Tree Farm's national public affairs committee for three years and then served for another three years on the public affairs committee. "That was a whole lot of trips to Washington in my polished shoes and suit coat," Des says, laughing.
Educating policy makers and the public about the importance of sustainably managed forests is crucial, says Des. "The biggest issue facing family forest owners is that the public doesn't understand how important our forests are to our economy and to the American people for the products they use and depend on. People need to understand that we're not wood butchers; we're managing forests for the benefit of people. A lot of
people just don't understand sustainability."