July 15, 2010
For Immediate Release
Contact Amanda Cooke
202.463.2731
ACooke@forestfoundation.org

Salem, Dianne, and Patrick Saloom Named 2010 National Outstanding Tree Farmers of the Year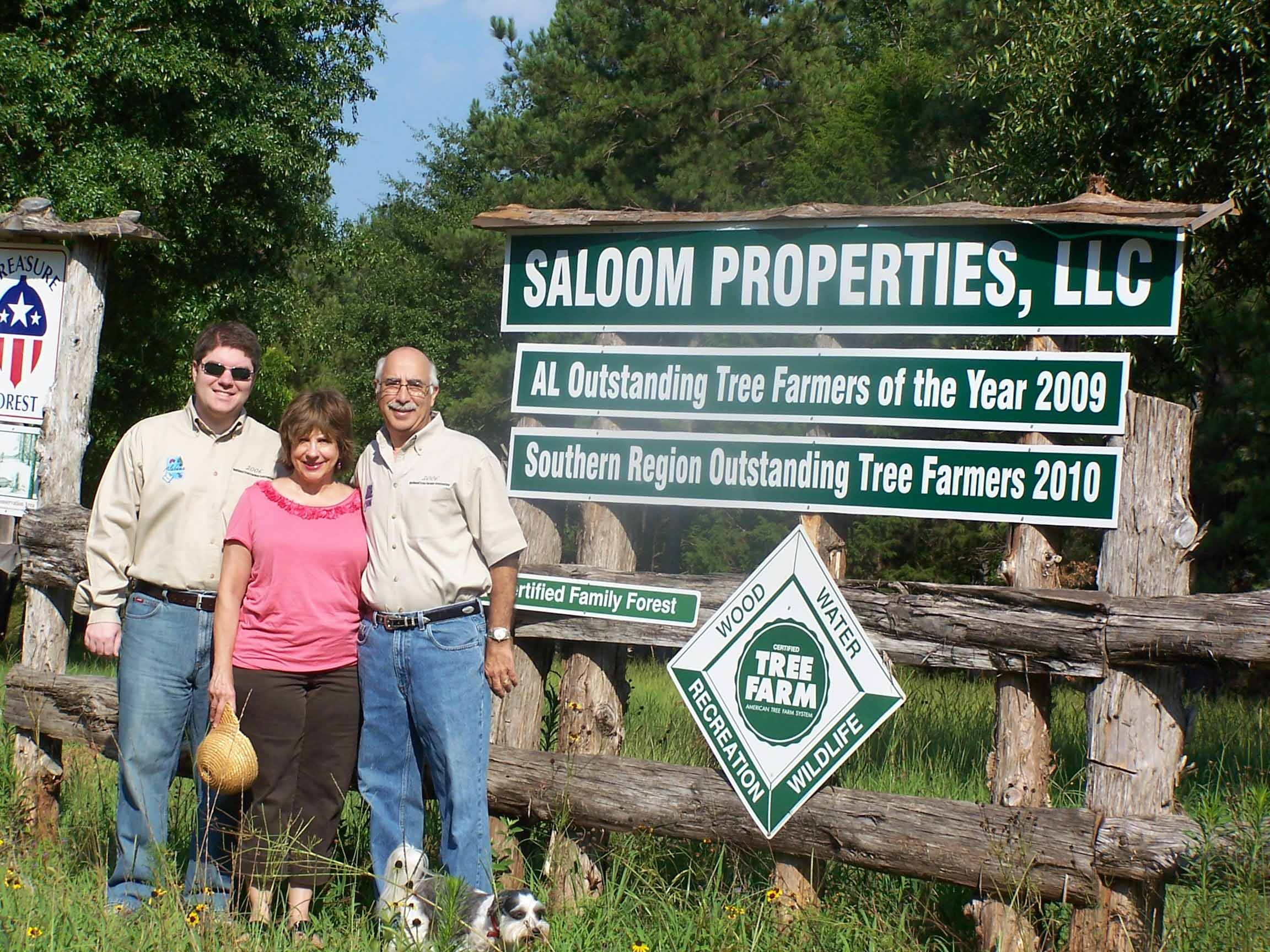 Washington, D.C. - The American Tree Farm System® (ATFS), a program of the American Forest Foundation (AFF), named Dr. Salem, Dianne, and Patrick Saloom as the 2010 National Outstanding Tree Farmers of the Year presented by STIHL. This annual award recognizes outstanding sustainable forest management on family-owned woodlands. The Saloom Properties, LLC, is a family-owned Tree Farm in Brewton, Alabama.
The Salooms were honored Thursday night in front of more than 350 woodland owners who had gathered from across the country at the 17th Annual National Tree Farmer Convention held in Burlington, Vermont. With this award, AFF annually recognizes outstanding sustainable forest management on privately-owned woodlands.
The Salooms' Tree Farm story is a story about relationships, with their Tree Farm work is a labor of love and faith. Their motives are unselfish and they have put forest management to work in a big way.
Salem attributes the success and happiness of his life – to his parents. They taught him to "tend a vigorous garden," and believe "you can do anything."
Salem Saloom was born and raised in Enterprise, Alabama where he earned a medical degree from Alabama University and become a well-known and respected physician and surgeon.
In 1983, Saloom bought 158 acres of forest property in Conecuh County. His goal was to improve the land's timber as well as wildlife, while creating a family refuge. That was the creation of Saloom Properties. For the next 27 years, the Salooms would buy surrounding parcels of forestland which today totals 1,762 acres of Saloom Properties.
In 2004, when Hurricane Ivan devastated southern Alabama, it took its toll on the Saloom Tree Farm resulting in devastation of his timber stand and finances. He took this adversity and turned it into an opportunity - replanting 136 acres of loblolly pine, Alabama's native species.
Today, Saloom Properties offers field trips to explore the forest. Fishing, hunting, camping, horseback riding, hiking, and other activities can occur daily in the Salooms' forest. For the past five years, the Salooms have been involved in the Forest in the Classroom/Classroom in the Forest Program in which they visit fifth grade classes and speak with them about forestry among other topics.
Saloom is a member of numerous forestry organizations including the Alabama Forestry Assocation, the Longleaf Alliance, and the National Wild Turkey Federation. He has organized, promoted, and conducted a number of forestry related workshops as a member of the Conecuh Forestry Planning Committee.
Just like in his medical career, Saloom has researched in depth everything he could find out about tree farming, from forestry and conservation practices, to learning firsthand about the interaction of wind, temperature, humidity, and solar radiation. "Very simply Salem Saloom is an outstanding Tree Farmer because of his deep and relentless love of the land," Doug Link, the forester who nominated the Salooms, said. "It is in this love of the land that drives all of his actions on and around his tree farm and for that there is no substitute."
An estimated 11 million private forest landowners collectively manage 56 percent of the forestland (423 million acres) in the United States. These lands provide many economic, social, and conservation benefits including supplying clean water as forests supply more than 50 percent of freshwater flow in the lower 48 states. The National Outstanding Tree Farmer of the Year Award, presented by STIHL, honors commitment, hard work, and generous outreach by the true champions of sustainable forestry-the nation's private landowners.
In accepting the award, Salem also congratulated other woodland owners, "Our award is your award as well."
The American Tree Farm System (ATFS), founded in 1941, is the oldest and largest forest conservation, certification, and advocacy program in the United States. ATFS promotes the sustainable management of forests through education and outreach to private forest landowners. TFS has enrolled 24 million acres of privately owned forestland and 91,000 family forest owners who are committed to excellence in forest stewardship. Landowners manage their forestlands for wood, water, wildlife, and recreation with assistance from 4,400 volunteer foresters.
STIHL Inc. manufactures the world's largest selling brand of chain saws and produces a full line of powerful, lightweight, and versatile handheld outdoor power equipment for homeowners and professional users. STIHL products are sold through servicing power equipment retailers from coast to coast— not mass merchants. STIHL products sold through U.S. STIHL dealers are for distribution in the United States only. For more information or for the name of the closest STIHL retailer call toll free 1-800-GO STIHL (1-800-467-8445) or visit the STIHL Web site at www.stihlusa.com.
The American Forest Foundation is a nonprofit 501©(3) conservation and education organization that strives to ensure the sustainability of America's family forests for present and future generation with its strategic partners. Its vision is to create a future where North American forests are sustained by the public, which understand and values the social, economic, and environmental benefits they provide to our communities, our nation, and our world
# # #