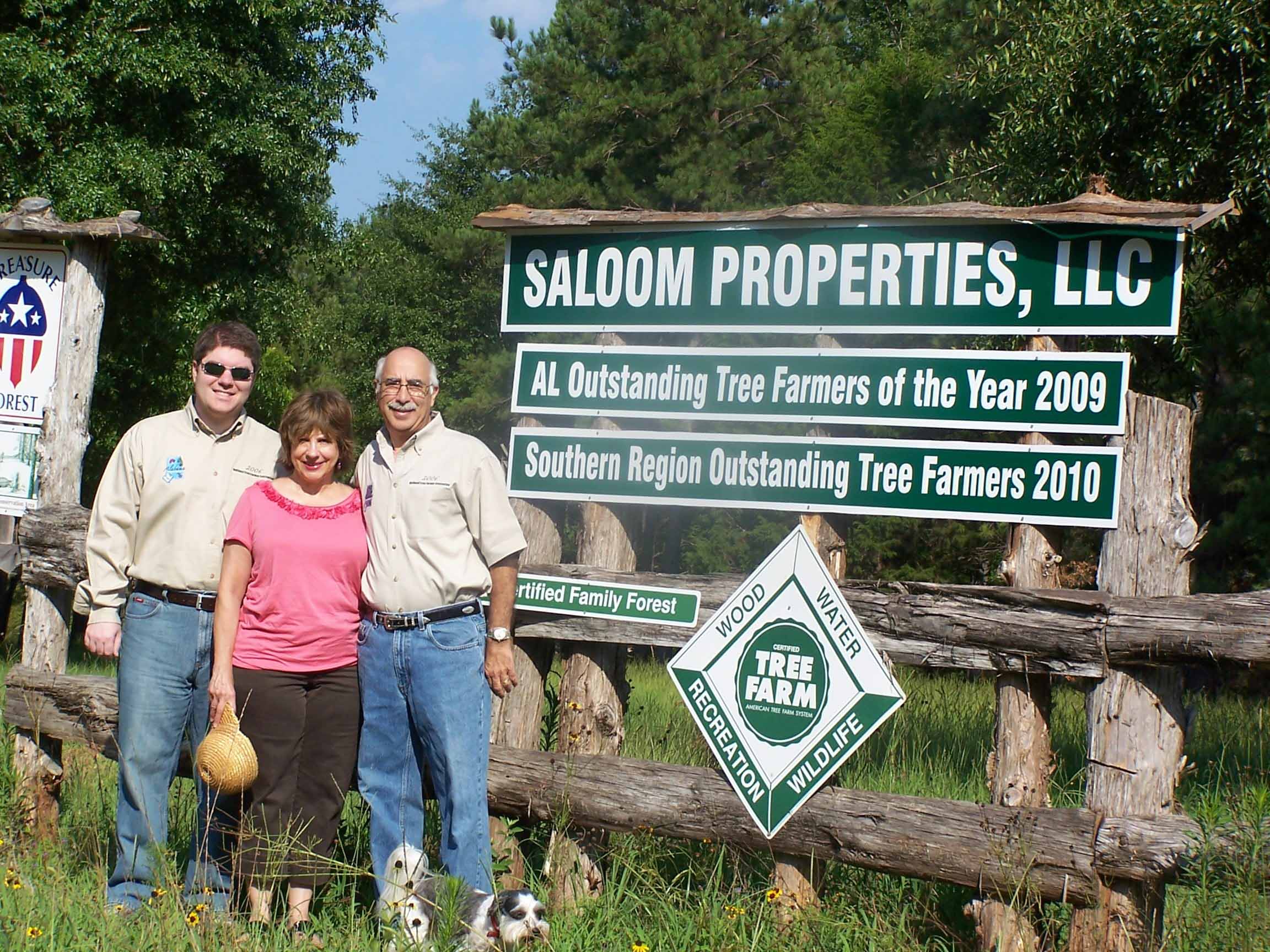 Dr. Salem, Dianne, and Patrick Saloom of Saloom Properties, LLC, a family-owned Tree Farm in Brewton, Alabama.
Salem Saloom was born and raised in Enterprise, Alabama where he earned a medical degree from Alabama University and become a well-known and respected physician and surgeon. The Salooms, Salem, his wife Dianne, and their son Patrick, have made faith, family, and a love of the land the foundation of their lives.
In 1983, Saloom bought 158 acres of forest property in Conecuh County. His goal was to improve the land's timber as well as wildlife, while creating a family refuge. That was the creation of Saloom Properties. For the next 27 years, the Saloom's would buy surrounding parcels of forestland which today totals 1,762 acres of Saloom Properties.
Today, Saloom Properties has many different practices. Field trips are commonly offered to explore the forest and the Salooms host many family and community gatherings. Fishing, hunting, camping, horseback riding hiking, etc., are activities that can occur daily in the Salooms forest. For the past five years, the Salooms have been involved in the Forest in the Classroom/Classroom in the Forest Program in which they visit fifth grade classes and speak with them about forestry among other topics.
Saloom Properties have been in a variety of local and regional newspapers with articles written about their forestry tours, activities, and awards. They have been featured in radio shows, as well as many magazines such as, the Alabama Treasure Forest Magazine, the Cooperative News Magazine, and the Green Horizons Alabama Tree Farm Newsletter.
Saloom is a member of numerous forestry organizations has also done a lot to promote Tree Farming. He has organized, promoted, and conducted a number of forestry related workshops as a member of the Conecuh Forestry Planning Committee.
Just like in his medical career, Saloom has researched in depth everything he could find out about tree farming, from forestry and conservation practices, to learning firsthand about the interaction of wind, temperature, humidity, and solar radiation. "Very simply Salem Saloom is an outstanding Tree Farmer because of his deep and relentless love of the land," Doug Link, the forester who nominated the Salooms, said. "It is in this love of the land that drives all of his actions on and around his tree farm and for that there is no substitute."
The National Outstanding Tree Farmer of the Year awards are sponsored by Stihl, Inc. the world's leading chain saw manufacturer and a variety of handheld outdoor power equipment.