Flying in to Oust Our Forest Pests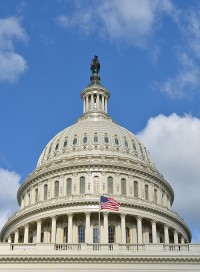 In a recent nationwide survey of Tree Farmers, more than 50 percent rated forest pests and pathogens as one of the top threats to their woodlands. This concern translated into action in May, when Tree Farmers from across the country traveled to Washington, D.C., to advocate for programs to combat forest pests and pathogens.
Attendees at the American Tree Farm System's® (ATFS) annual two-day fly-in to the nation's capital spent their first afternoon listening to briefings from experts from ATFS and other organizations to familiarize themselves with the policy issues. They spent their second day in the halls of Congress, meeting with their representatives and senators face-to-face.
This year, ATFS coordinated with the National Association of State Foresters to attend congressional meetings together. The groups united in the message that Congress needs to focus on forest pest and pathogens and their impacts on forest health.
"The threat of invasive species and other forest pests is an issue that really gets woodland owners going," said ATFS National Public Affairs Committee Chair and long-time fly-in attendee Jo Pierce,
a Tree Farmer from Maine. "This is a real risk that many woodland owners face every day, and woodland owners must recognize that advocating for policies and programs that work to reduce this threat is critically important. Our voice must be heard."