Greg Marshall
Greg Marshall credits his forestry career to childhood days spent with his family in the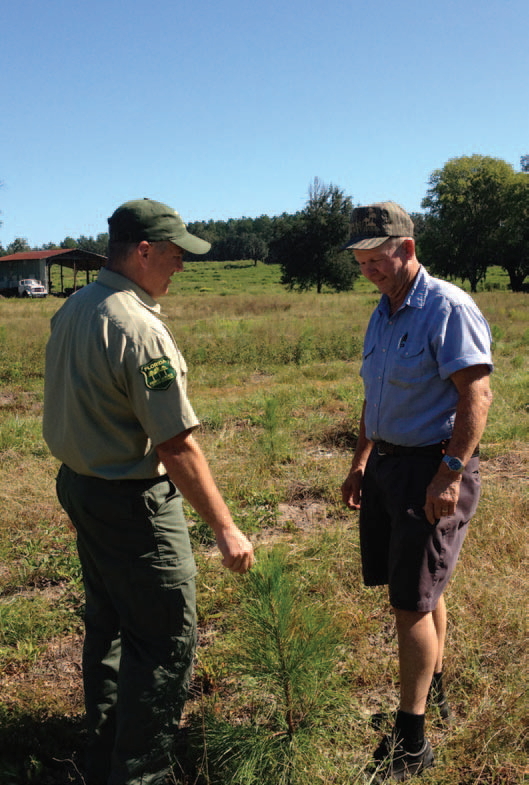 hardwood forests of the Smoky Mountains and the pine forests of coastal North Carolina. "My grandfather was a horticulturalist, so trees must have gotten in my blood," says Marshall, a 1997 graduate of the University of Florida, who was recently honored as the American Tree Farm System® (ATFS) 2013 Inspector of the Year for the Southern Region.
An employee of the Florida Forest Service, a member of the Florida Tree Farm Committee, and the state's Inspector of the Year in 2009 and 2012, Marshall works directly with private woodland owners in two Florida counties (and helps coordinate work in more than a dozen other counties). "I assist them with management—everything from writing a large, comprehensive plan to helping them become part of Tree Farm," he notes. "I conduct workshops for landowners and I also do a lot of youth education."
One of the activities that Marshall particularly enjoys is teaching at the forestry summer camp sponsored every year by the Florida Forest Service and Future Farmers of America. "We're educating kids who don't get out in the woods a lot, and that's important," says Marshall.
In his role as an inspector, Marshall is an enthusiastic ambassador for the ATFS. "I meet lots of people and get to see where they are with their forestry. That relationship builds trust, so when I start talking about Tree Farm, people listen," he relates. "When I sell Tree Farm, I also sell the American Forest Foundation, which does so much good in educating kids and lobbying on forest issues in Washington."
"Greg is a very energetic supporter of the American Tree Farm System® and what it means for sustainable forestry practices in Florida and nationwide," says Philip Gornicki, a fellow member of Florida's Tree Farm Committee who nominated Marshall as the southern region's inspector of the year. "Greg serves as a great example to others."
Seeing the results of his work with individual woodland owners gives Marshall the greatest satisfaction. "I work with a landowner whose property is on the Santa Fe River. Getting him into Tree Farm, working with him on his property and seeing things happen has been exciting," he says. "He has put his property into a conservation easement so it will never be developed. He's going to build a learning center on it. Since there was nowhere else to put his Tree Farm sign, we were able to put it right on the bank of the Santa Fe River. It's probably the only Tree Farm sign that will be seen mostly by kayakers."