2013 Outstanding Inspector of the Year: Jamie Knight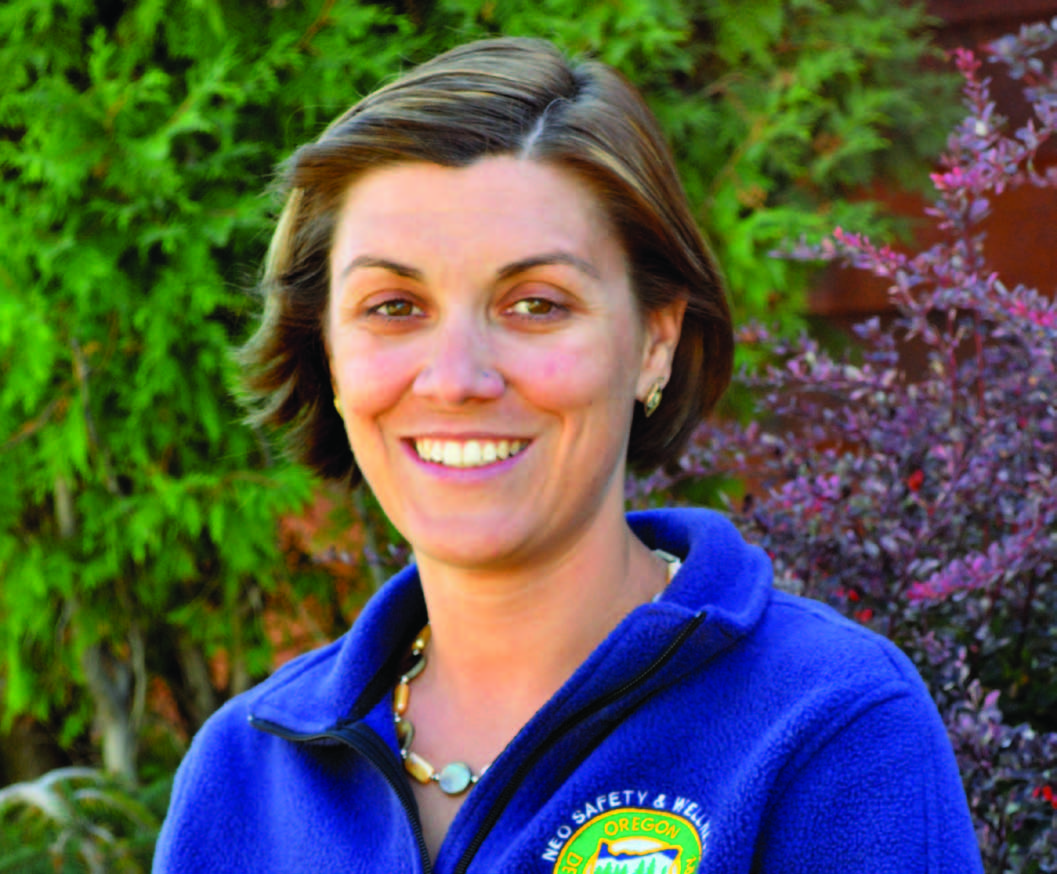 Oregon has lots of forestland—and many certified Tree Farm Inspectors. But in the sparsely populated, rural northeast corner of the state it can be difficult to recruit inspectors. In fact, the district inspector spot for isolated Union and Wallowa Counties stood vacant for several years. So, when forester Jamie Knight expressed an interest in filling the slot, the Oregon Tree Farm Committee (OTFC) jumped at the chance to recruit her.
For Knight, who grew up in rural La Grande (where she still lives with her husband and young daughter) the district is home and the job is perfect. "It's a beautiful place to live and work, a great place to raise kids and a great job," says Knight, this year's American Tree Farm System® (ATFS) Outstanding Inspector of the Year, sponsored by STIHL, Inc. "This small farming and ranching community is the valley where I was born and raised. I was never one of those people who wanted to go away."
With degrees in both forestry and wildfire management, Knight combines her Tree Farm activities with her job for the Oregon Department of Forestry. "When I was younger, all I wanted to do was fight fires, but I had a professor who urged me to complete the forestry program, and I am so glad he did. I just love being a forester," she says.
"Everybody knows Jamie, and everybody likes her," says Michael Atkinson, certification coordinator for the Oregon Tree Farm program. "She is really dedicated to her work, not just for OTFC, but in every aspect of forestry leadership. She strives to acknowledge the work that landowners are doing on their land, and is very willing to share her knowledge with them."
Mark Jacques, Knight's supervisor at the Oregon Department of Forestry, says her wide range of expertise "is like having several employees in one. [Her] main duties are as a field forester, but she can easily switch hats and be a great resource and spokesperson when we host tours for political leaders and leadership groups from the U.S. Forest Service."
Spreading the word about Oregon Tree Farm is something Knight does well—and often. She regularly hosts Tree Farmer of the Year tours, and gives talks about Tree Farm stewardship and values to civic and professional groups around the state.
As a nominating forester for the state's Tree Farmer of the Year program, Knight makes sure that there is always a Tree Farmer of the Year from Union County. Since she became active in Tree Farm in 2001, three state Tree Farmers of the Year have come from her district in sparsely populated northeastern Oregon, and one went on to become the Western Regional Tree Farmer of the Year.
Among Knight's official duties for the state are managing the Private Lands Forest Network, a nonprofit organization that provides seedlings to landowners in northeast Oregon and southeast Washington. She also manages the Blue Mountain Western Larch Cooperative Orchard, which grows grafted larch seedlings to meet the shortfalls of larch seed in northeastern Oregon and southeastern Washington.
But it is Knight's work with landowners that gives her the most pleasure. "I enjoy working with Tree Farmers, learning what they'd like to accomplish, and making the recommendations to help them make it happen. I get to share their dreams."