A Wealth of Learning, Legacy and Networking Opportunities...
With a Big Side of SUMMER FUN!
Hundreds of Tree Farmers, landowners, industry professionals and partners will meet in one of America's most beautiful summertime destinations, Minneapolis, Minnesota, one of the oldest and strongest timber regions and cultural hotspots in the nation. Check out this year's program.
Creating Forest Brews
Speaker:Al Robertson and Mike Burns
Your forest may contain the key ingredients for delicious all-natural beverages. Learn how to tap into some non-traditional forest products to create hot, cold, and even adult refreshments.
Al Robertson is a semi-retired professional engineer from Sheffield, Vermont. He spent many years in Germany early in his career working for the US Army, touring castles and breweries, and drinking hundreds of different beers and ciders. He began experimenting with making hard cider upon his return to Maryland in 1978 while working at Aberdeen Proving Ground, and planted his ancient cider apple orchard on the woodland parcel he purchased in Vermont in 1980. He began making hard cider from this orchard in 2001 when he retired and today ferments approximately 30 -40 gallons of hard cider every year. His presentation will cover cider apples, storage, fermenting, bottling, and the results…

Michael J. "Mike" Burns has been the American Tree Farm System's Program Resource Manager since June 2011. His main area of responsibility is the implementation of pilot programs to increase professionalism of services, build capacity for outreach and education, and create financial sustainability with four distinctive state programs. Prior to joining Tree Farm, Mike was the Deputy Director of the Empire State Forest Products Association, an independent consulting forester, hardwood sawmill procurement forester, and started his career with the USDA Forest Service.
Speaker: Dr. Mel Baughman, Professor Emeritus University of Minnesota
Forest owners will learn how to design, construct, and maintain sustainable hiking trails that hold up to intensive recreational use and severe weather conditions. It will cover all steps in trail design, including how to: determine trail uses, select the trail corridor, establish trail design standards, mark exact trail location, clear the trail, and construct the tread, install structures to cross obstacles (e.g., a hillside, slopes and cliffs, wet soil, waterways and gullies, roads and fences), sign the trail, and install facilities that support the trail.
Dr. Baughman is a Professor Emeritus from the University of Minnesota, Department of Forest Resources. He taught a three credit class on trail design at the University of Minnesota for several years and provided dozens of seminars and field trips on trail design for family forest landowners and the natural resource professionals who advise them. He also does free consulting on trail projects for public agencies and nonprofit organizations.
Restoring Oak on Private Lands; a landscape approach
Speakers: Mike Finlay and Carol Nielsen from WI DNR

Forest owners and managers will learn about the importance of oak on the landscape and how they can help address the decline in oak stands. Focus will be on the importance of landowners deeply understanding oak silviculture and how it relates specifically to their oak regeneration attempts. Once landowners have developed their understanding, we will present the tools to help them reach out to their neighbors and deliver a proper and effective forestry message based on finding from an innovative outreach attempt in Southwest Wisconsin.
Carol Nielsen graduated from UW Stevens Point with a bachelor's degree in Forest Management. She has been a forester with the WDNR since 1984. Her career has spanned the state from north to south and field to central office. Her field experience includes working with private woodland owners in both Sawyer County and Iowa County. In her current position she is responsible for the administration of the Wisconsin Forest Landowner Grant Program, the Cooperating Forester Program and interaction with a wide variety of private forestry partners including the Wisconsin Tree Farm Committee and the Driftless Forestry Network.

Mike Finlay is a forester for the Wisconsin Department of Natural Resources servicing private landowners in Richland County, WI. He specializes in helping landowners manage their forests for high quality sawlogs while providing wildlife, ecological, and social benefits. Mike has a B.S. in Forest Management from Colorado State University in Fort Collins, CO.
Non-Timber Forest Products
Speaker: David Wilsey, University of Minnesota

Participants in this session will be introduced to a new publication, the Minnesota Harvester Handbook. The Handbook is the culmination of several years of collaborative work among educators, forest resource managers and harvester communities in Minnesota. It provides a framework for exploring and learning about non-timber forest products that includes product biology and ecology, markets, policy considerations, and social factors. Moreover, it offers users multiple points of entry to more meaningful incorporation of natural resources into their lifestyles and livelihoods. This is a great resource for forest owners and resource users!
David Wilsey, Ph.D. is a lecturer and program coordinator for the Master's in Development Practice (MDP) degree program at the University of Minnesota's Humphrey School of Public Affairs. Prior to joining the Humphrey School this July, Dave was an Associate Extension Professor / Educator in Forestry. His program and research efforts focus on socio-economic aspects of natural resource management such as natural resource livelihood strategies, natural resource enterprises, market-based conservation, and community-based development. His specific areas of expertise include non-timber forest products, value chains, and certification.
Speaker: Matthew Ross from the Quality Deer Management Association
Timber management can produce income for the landowner; however, it can also be the major reason for quality wildlife habitat. This presentation will discuss sustainable forest management as it relates to even and uneven-aged silvicultural techniques, as well as how managing hardwood and coniferous stands of trees may differ under a quality deer management program. Learn more about what Quality Deer Managment really means to tree farm management here.
Matthew D. Ross is a native of upstate New York, he received his B.S. in Wildlife conservation from the University of Massachusetts, Amherst and his M.S. in Wildlife Ecology from the University of New Hampshire. He has worked as a wildlife biologist and forester in southeastern NH before joining the Quality Deer Management Association in 2006. He is a Certified Wildlife Biologist, a NH Licensed Forester and an American Tree Farm inspector.
Speaker: Brad Hutnik and John Nielsen from Wisconsin DNR

We will discuss forest interior songbird habitat from a landscape perspective down to the influence individual woodland owners have on habitat. We will present specific habitat needs of individual bird species and how landowners can contribute and understand how their actions can improve forest interior song bird habitat. We will also present a landowner perspective on the impact 20 years of active woodland management has had on the songbirds on their property in the Driftless Area of Wisconsin.
Brad Hutnik is a Forest Ecologist / Silviculturist with the Wisconsin Department of Natural Resources, stationed in Madison. As silviculturist, Brad serves statewide forest ecology and silviculture programs with responsibility for developing, implementing, monitoring, and evaluating both programs and policies. Brad graduated with a bachelor's degree in forest management from The University of Wisconsin – Stevens Point in 1994. Before joining the DNR, Brad interned with Consolidated Papers (now New Page) and worked for the Lake County Forest Preserve District (Lake Co., IL) and Clark Forestry (Baraboo, WI) as a staff forester. He lives in Spring Green, WI with his wife and family.

John Nielsen received a Forestry Degree in 1982 from the University of Wisconsin - Stevens Point. John has worked as a forester for the DNR for over 28 years and is currently the Southern District Forestry Leader where he coordinates Wisconsin's forestry efforts in the southern 27 counties of Wisconsin, including the Driftless Area. He is a member of the Driftless Forestry Network steering committee. He and his wife Carol practice forestry at their Tree Farm in Richland County, Wisconsin. John and Carol have two children in college, Mathew and Kristina. They reside in Mt. Horeb, Wisconsin.
Speaker: Sarah Crow, Certification Manager ATFS
Threatened & Endangered Species, Special Sites and High Conservation Value Forests (HCVF) are unique and important resources elements in managing your Tree Farm. Protecting these resources is also included in the 2010-2015 ATFS Standards of Sustainability for ATFS Certification. But, how are these resources defined and where can Tree Farmers learn more about them? During this session, we will explore the range of tools and resources available for identifying these interesting resource elements and discuss techniques for integrating them into your forest management plan and activities.
As the Certification Manager with the ATFS, Sarah Crow works with Tree Farmers, State Committees and Inspecting Foresters across the ATFS network to implement ATFS Certification on the ground. Sarah holds a BS in Forestry from the University of Montana and a MS in Natural Resources from the University of Vermont. A former Fulbright Scholar to Ukraine, Sarah enjoys all things culinary, including growing, cooking and eating food!
Speaker: Dr.Tammy Cushing
This presentation will provide you with the basics of the estate tax process. Once the basics have been presented, we will discuss how to plan for transfer of ownership and the incentives that exist for forest landowners. Since no incentive comes without some kind of string, the requirements and unintended consequences of these incentives will be discussed. The goal is to provide landowners with enough information to plan to minimize the impact of the estate tax.
Dr. Cushing is an Assistant Professor & Extension Forestry Specialist. Her area of expertise is in taxation of private forest land. Previous research has looked at the impact of the estate tax on forest landowners and the cumulative impact of property, severance and income taxes on land value.
Speaker: Dr. Tammy Cushing
Even though many of us don't want to think about taxes after April 15th (until the next year), there is information that can be helpful for planning to reduce the tax liability. Planning should take place before operations occur. This presentation will focus on determination and allocation of basis, capital gains, and the reforestation incentive.
See above for Speaker bio.
Use Geocaching to Explore and Monitor your Forest
Speaker: Stephen Connolly, VP Minnesota Geocaching Association
Geocaching is an individual or family activity which millions of outdoors enthusiasts enjoy worldwide. This presentation will give a brief overview of this game which combines the high technology of global positioning systems with the thrill of an old fashioned treasure hunt.
Stephen Connolly is a production specialist at UPM/Blandin Paper Company in Grand Rapids, Minnesota. UPM/Blandin is a forest industry leader in the manufacturing of high quality magazine grade printing papers. Mr. Connolly has been geocaching since July of 2005, and currently serves as Vice President of the Minnesota Geocaching Association.
Speaker: Christine Cadigan, AFF Public Affairs Manager
Emerald Ash Borer. Asian longhorned beetle. Sudden oak death. Cogongrass. What's next? Will it ever end? Learn what federal policies are protecting our forests from these seemingly endless threats and how you can help ensure these policies are working as effectively and efficiently as possible. Also help us work to spread the word to other landowners, so they can be ready to stop the spread, too.
Christine Cadigan is a Public Affairs Manager at the American Forest Foundation. She first joined AFF in February 2011 as the Public Affairs and Conservation Coordinator and then moved into the Manager role shortly thereafter. Prior to AFF, Christine completed Masters' degrees in both Forestry and Environmental Management from Duke University, concentrating her studies on woody biomass supply and demand in the Southeast. Christine has brief experiences working with the USFS Southern Research Station, the Southern Environmental Law Center, and the Virginia Department of Forestry. She is originally from Richmond, Virginia and completed her undergraduate studies in biology at the University of Virginia.
Speaker: Melissa Moeller, AFF Public Affairs Manager
Wood is good—good for the environment, for conservation, and for the economy. However, we have seen policies pop up at the federal, state, and local level that discriminate against the use of wood and even forest products more broadly. Learn about efforts to change public policies and the broader conversation around wood and how you can be an effective advocate.
Melissa Moeller has been a Public Affairs Manager for the American Forest Foundation since February 2010. She manages grassroots advocacy programs and influences public policy issues important to family forest owners. Prior to joining the staff at AFF, Melissa worked for the National School Boards Association (NSBA), where she increased engagement in grassroots advocacy programs and supported federal education policy initiatives. Prior to NSBA, Melissa also worked for the United Motorcoach Association. Melissa received her MA in Political Communication from Johns Hopkins University in Baltimore, MD and her BS in Psychology and Political Science from Furman University in Greenville, SC.
Speakers: Barry Graden, Director of Southeast Community Outreach

SFI Inc. is an independent, non-profit organization responsible for maintaining, overseeing and improving a sustainable forestry certification program that is internationally recognized and is the largest single forest standard in the world._ SFI certification also extends to the market. When they see the SFI label on a product, consumers can be confident they are buying wood or paper from certified forests or certified sourcing – whether it is reams of paper, packaging, or lumber products._As a non-profit organization, SFI Inc. thrives on the energy and collaboration of diverse groups that help it promote sustainable forest management in North America and responsible procurement globally, beginning with its interaction with 35 SFI Implementation Committees, or SICs._ This presentation will be co-presented by SFI Inc. and a state SIC to discover – and uncover - the breadth of the SFI Program._
Please see the Speaker Bio below.
Speakers: Barry Graden, Director of Southeast Community Outreach

This presentation will focus on the SFI Forest PartnersSM Program and the progress to date of this multi-year program to increase the certified forest acres and small mills to SFI Standards beginning in the U.S. Southeast. Several state-wide projects have yielded new partnerships with state agencies, private land owners and the forest products industry. World markets continue to trend toward certification and product labeling to provide assurances of sustainable procurement and support for sustainable forest management. Founding Partners of the program have made five-year commitments to support it financially with the expectation that market leadership will encourage growth of forest management, fiber sourcing and chain of custody certification.
Barry Graden is currently the Director, Southeast U.S. Community Outreach for Sustainable Forestry Initiative Inc. (SFI Inc.) program, a third-party forest certification system in North America. After receiving his Bachelor's Degree in Forestry from Iowa State University, Barry began working for Bowater Incorporated in the summer of 1980. He subsequently received a Master of Business Administration (MBA) degree from Winthrop University.

Over the next 31+ years with the company (renamed AbitibiBowater, Inc. through a 2007 merger with Abitibi Consolidated) he held various positions in land management, landowner assistance, communications, and corporate forest management and chain of custody certification to multiple standards. Through these positions he gained valuable experience linking certification to the supply chain by promoting the values of certification to the marketplace while assisting Sales as forestry liaison to the company's customer base. In November, 2011 Barry began employment with Sustainable Forestry Initiative, Inc. where he oversees the SFI Forest PartnersSM Program aimed at growing SFI certification among medium sized landowners and mills. Barry is an SAF Certified Forester and a SC Registered Licensed Forester. He is located in Greenville, SC.

Planning for the Successful Transfer of your Forest: Strengthening the Process
Speakers: Dr. Tammy Cushing
Keeping the family forest intact through generational transfers requires planning. This presentation will focus on the activities that the forest landowner should engage in to transfer the maximum amount of assets to heirs. While this is ultimately about planning to avoid taxes, it is really about keeping the family forest intact and allowing management to continue.
See Healthy Future for speaker bios.
How to Win Forestry Friends and Influence People
Speakers: Melissa Moeller and Christine Cadigan, AFF Public Affairs Managers
Whether we like it or not, public policies play a role in our woodlands, impacting the health of our woods and the future for our families. Learn how you can play a role in influencing public policies. Often it's not about being an expert on the policy details—it's about building relationships and sharing your Tree Farm's story.
See Healthy Future for speaker bios.
Speakers: Emily Patterson, AFF Website Manager
You love your woods. And when you love something, you want to share it. This session looks at how you can use new online tools to share photos and stories with friends, family, ATFS and other woodland owners. First, get familiar with the latest trend in social media, the image sharing site Pinterest, where women worldwide share beautiful photos and delicious recipes. Then, check out our Facebook page and tell us how we can make it more relevant for you. Finally, learn about how you can share your stories with other woodland owners on My Land Plan and the Tree Farm System website.
Emily Patterson comes to marketing and web design from a background in journalism. After graduating from Ohio University's Scripps School of Journalism, Emily took a copy editing position at China Daily, China's largest English-language newspaper. She worked with an international team of journalists to start Asia Weekly, a magazine with news and features from across Asia.
After returning to the US in 2008, Emily turned her eye for writing and design to the field of website design and management. She worked as the web content manager for the Better Business Bureau headquarters, where she wrote, designed graphics and oversaw analytics for a website that receives nearly 7 million visitors a month. She is currently the Web Communications Manager for American Forest Foundation where she has been instrumental in growing traffic, enhancing usability and increasing conversions on the organization's four websites.

Woman's World Café
Facilitator: Caroline Kuebler
Share your stories and learn from other woman Tree Farmers in this interactive and dynamic session. The world café is a format designed to mimic a cafe environment to enable a better flow of conversation between participants. The session consists of different tables where a question or theme is posted for participants to discuss. Participants are encouraged to rotate round the room to engage with the conversations at each table. Join us for this session and come away with some new ideas and stronger connections.
Just announced! On Thursday July 25 at 2:00 in the General Session room, join us for a screening of the new documentary produced by PBS affiliate WVIA, Seeking the Greatest Good: The Conservation Legacy of Gifford Pinchot. The film highlights the history and continuing value of Pinchot's philosophy of natural resource conservation through sustainable use. View the trailer and learn more about the documentary on the film's website: seekinggreatestgood.org
Registration is closed
Please join us next year in Pittsburgh, PA from July 17-19!

Relax at the Depot hotel in the heart of downtown Minneapolis. This hotel was established in 1899, and served as a train station in the glamorous "gilded age".
Our convention site was named "Best Family Friendly Hotel" with great attention to historical detail, a beautiful restaurant and best of all, a real indoor waterpark!
Learn more about this great destination hotel
Experience A fun filled Field Day to the Big Woods Farm, a certified family tree farm owned by Dave and Beverly Medvecky.
Eat great food, make new friends and learn about this farm which is at the cutting edge of innovative management that has both enhances revenue and quality of life for three generations.
This field trip will give you an insider's view of the growing "green economy" – and ladle out a heaping serving of one-of-a-kind rural Minnesota hospitality!
Enjoy your favorite Convention events, like celebrating the extraordinary achievements of several of our Tree Farmers and Inspectors.
It's been called The Oscars of the Tree Farming World! We will recognize the Regional National Outstanding Tree Farmers and Inspectors of the Year. Generously sponsored by STIHL, Inc.
Learn more about Convention events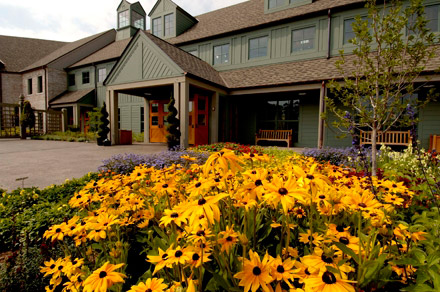 One of a kind optional outings, like the banquet at Nye's Polanaise Club, a step back into Truman-era "Nordeast" Minneapolis, a true locals hang-out featuring old world polish cuisine; a day trip "Up North," with hayrides and University of Minnesota managed forests, rose gardens and lake-side resort dining; St. Paul, with its grand cathedral and Mississippi riverboat rides, and gorgeous summertime Minneapolis, with its down home warmth, walkable waterfront and high style city offerings.
Learn more about optional tours
Click here for more detailed information on all the tours.
Just announced! On Thursday July 25 at 2:00 in the General Session room, join us for a screening of the new documentary produced by PBS affiliate WVIA, Seeking the Greatest Good: The Conservation Legacy of Gifford Pinchot. The film highlights the history and continuing value of Pinchot's philosophy of natural resource conservation through sustainable use. View the trailer and learn more about the documentary on the film's website: seekinggreatestgood.org
SCHEDULE
Wednesday, July 24, 2013
Optional Pre-Convention Tour: "Up North" Forests and Cities Tour
Thursday, July 25, 2013
Optional Pre-Convention Tour: St. Paul Sigheseeing Tour and River Cruise
Optional Pre-Convention Tour: Univ. of MN Landscape Arboretum and Sovereign Estate Winery Tour
Join us at 2:00 p.m. for a screening of the new documentary produced by PBS affiliate WVIA, Seeking the Greatest Good: The Conservation Legacy of Gifford Pinchot. The film highlights the history and continuing value of Pinchot's philosophy of natural resource conservation through sustainable use.
National Tree Farmer Convention Opening General Session, 4:00 p.m.
Reception
Optional Dinner: Nye's Polonaise
Hospitality Suite
Friday, July 26, 2013
Breakfast
Concurrent Sessions and Exhibit Hall Open
Luncheon with Distinguished Speaker
Concurrent Sessions and Exhibit Hall Open
Presentations of the Regional Outstanding Tree Farmers of the Year, Sponsored by STIHL, Inc.
Dinner on your own
Hospitality Suite
Saturday, July 27, 2013
Breakfast
Field Day and Lunch at The Big Woods Farm, owned by Dave and Bev Medvecky
Reception - Final Silent Auction Bidding and Book Signing with Eric Rutkow
Closing Awards Banquet - Speaker Eric Rutkow and Presentation of the National Outstanding Tree Farmer and Inspector of the year, Sponsored by STIHL, Inc.
Hospitality Suite
Come early or stay late and join the Minnesota Tree Farm Committee for one of their optional tours!
This year's optional tours cover everything from a hayride at the University of Minnesota's Cloquet Forestry Center to a shopping spree at the world famous Mall of America. This year's optional dinner will be held at Nye's Polonaise - a Minneapolis tradition!
REGISTRATION: March 16, 2013 - June 14, 2013,
$360 per adult

1) To register online, click "Log In" in the top right-hand corner of this page.
2) Enter your unique username and password in the fields
3) Then click on "Register for Events" from the right-hand menu on the next page.
4) Then, follow the links to the 2013 National Tree Farmer Convention.
Not sure if you have an account? Click here to check using your e-mail address. Forgot your username and password? Click here to have them e-mailed to you.
Wednesday, July 24
Up North Forests and Cities Tour, 7:30 a.m. - 8:30 p.m., $88/person
Thursday, July 25
** SOLD OUT!** St. Paul Sightseeing Tour and River Cruise, 9:00 a.m. - 2:30 p.m., $65/person
Dinner at Nye's Polonaise, 6:30 - 8:30 p.m., $50/adult, $20/child 12 and under
"Up North" Forests and Cities Tour
Wednesday, July 24, 2013, 7:30 a.m. - 8:30 p.m.
$88 per person
Join us as we spend an unforgettable day touring many of Minnesota's most beautiful cities and innovatively managed forests – by foot and haywagon!
We'll head "Up North" by luxury motorcoach to northern Minnesota to visit historic "Harbor City" built on the shores of Lake Superior. A professional forester and Tree Farm inspector will be "on tap" for the ride, answering questions and providing interesting tidbits about Minnesota's forests. First stop, the University of Minnesota's Cloquet Forestry Center, viewing state-of-the-art research projects and demonstration sites during a comfortable and relaxing 2 hour hayride. A delicious local lunch will follow at the forestry center.
Next up, we'll visit the city of Duluth, a port city perched on the sparkling westernmost tip of Lake Superior near the Wisconsin border. We've engaged a local expert that will provide us with a 1 ½ hour tour, including a stop at Enger Tower, which overlooks the city skyline, lake and surrounding forests and prairies. From here we will travel the University of Minnesota's beautiful and fragrant Rose Gardens. If you enjoy history, Duluth is a fascinating site. Originally the haunt of the Ojibwe and fur traders, at the turn of the 20thcentury it had become the playground of the rich and famous with a port that surpassed New York and Chicago in tonnage of goods. The industrial port boom faltered in the challenging economic times of the late 20th Century. Today, the city is enjoying a renaissance whose culture and natural beauty attracts some 3.5 million tourists a year. A highlight is the Canal Park region, once empty warehouses, it now features an ever-growing array of boutiques, interesting restaurants and shops. We'll spend our free time here, or, if you prefer, walking along the shores of Lake Superior, a truly "Great" Lake, which features the famed Aerial Lift Bridge.
On our way home by motorcoach we'll stop at Grand Casino – Hinckley for a delicious dinner buffet before returning to the hotel.
_____________________________________________________________________________________
** SOLD OUT** St. Paul Sightseeing Tour and River Cruise
Thursday, July 25, 2013, 9:00 a.m. - 2:30 p.m.
$65 per person

There's a reason it's called "The Twin Cities." Join us for a terrific day of touring the Saintly City, St. Paul, Minnesota. We've procured one of the cities most knowledgeable tour guides to give us an insider's look at "the last city of the East," a city of turrets and towers, baroque domes and elaborate Victorian architecture. The tour will begin driving through Victorian neighborhoods built by railroad barons, historic families and notable authors that rival the famous row of "Painted Ladies" in San Francisco. The next stop will be the magnificent St. Paul Cathedral and the equally stunning State Capitol. The corporate headquarters Ecolab and the Minnesota Wild Hockey Team's home arena – Xcel Energy Center – will show off the region's sense of innovation and robust economy. From there we'll hop on a scenic boat cruise on the Mississippi River, listening to stories of this surprising city, home to cathedrals and such notorious gangsters as John Dillinger and Babyface Nelson. Docking on Harriet Island, we transfer to the historic Padelford River Boat ® to take in panoramic views of the great city on the prairie. The cruise will continue with an onboard lunch, a fascinating expert presentation and viewings of the St. Paul High Bridge, Pig's Eye's Cave, Minnesota River mouth, Pike Island, Fort Snelling, and – always as the backdrop -- the timeless splendor of the mighty Mississippi River.
After the conclusion of the cruise we will again board the motorcoach as we make our way back to Minneapolis.
_____________________________________________________________________________________
University of Minnesota Landscape Arboretum & Sovereign Estate Winery Tour
Thursday, July 25, 2013, 8:30 a.m. - 3:00 p.m.
$65 per person
Climb aboard our deluxe motorcoach as we leave the busy city for a day of touring TheUniversity of Minnesota Landscape Arboretum and Sovereign Estate Winery. The arboretum features more than 1,000 acres of magnificent gardens, model landscapes, and natural areas-from woodlands and wetlands to prairie-with extensive collections of northern-hardy plants. We think you'll enjoy the "Red Barn" built in 1920 as well as whimsical willow sculptures. Enjoy a tram ride with guided tour through the Arboretum or walk a portion of the 12.5 miles of garden paths and hiking trails. Smell the flowers, inhale the scents of roses, mint and lavender, Then quench your thirst with refreshing ice-cold lemonade, iced tea and a snack in the Tea Room overlooking the gardens with Green Heron Pond in the distance.
Next up, Sovereign Estate Winery, an award-winning vinter located on the scenic north shore of Lake Waconia. A European style winery with a storied history, it showcases how a local family has worked the land to create a unique product, based on the specific "terroir" of this region. There will be tours, wine tastings, on-site shopping and an antipasto lunch on the patio.
_____________________________________________________________________________________
Dinner at Nye's Polonaise
Thursday, July 25, 2013, 6:30 p.m. - 8:30 p.m.
$50 per adult
$20 per child (12 and under)
Join us for an evening of delicious food and music in one of Minneapolis' most treasured venues. The bar at the corner of Prince Street NE and East Hennepin Avenue has been called Nye's since 1950, when Albin Nye took over Prince Café owned by Hefron's, a "working man's bar" occupying the 1880's building. From the beginning whenever it was open, Al, a former machine shop foreman at Minar Ford, was determined to be there serving drinks to the mostly blue-collar Nordeast crowd.
Business was good, and before long Al began to envision a dining room addition unlike any other. In 1964 Al opened a piano lounge resplendent in oak paneling, red carpet, and curvy, glittering, naugahyde booths. Al designed the colored-glass light fixtures himself and had them custom-made by the Winona Lighting Company. Above the piano, Al hung a portrait of Frederic Chopin, the Polish composer famous for his works in the style of "Polonaise", the Polish national dance. "Polonaise", the French word for "Polish", also gave Al a name for his unique, new dining room.
Serving dinner gave Al the opportunity to display his heritage by developing his own Polish recipes for things like sauerkraut and cabbage rolls, as well as prime rib. Al also tore out an old exit stair in the "Old Bar" so he could build the legendary tiny Polka stage, which would become a space-saving showcase for countless live bands over the years.
Business remained robust, so in the late 60's Al opened the Chopin Dining Room, which was located next door on the first floor of a former Harness Shop that is listed on the National Register of Historic Places. The brick exterior of the Chopin Dining Room is a contributing property to the Saint Anthony Falls Historic District.
Al's domination of the block was made complete in 1974 when he incorporated Jon's Café, the diner next door that was formerly known as The Dog House, and turned it into Nye's. Al redecorated the space with military portraits and named it the Pulaski Room, after General D. Pulaski, a polish-born officer in the American Revolutionary War, and a hero to Polish-Americans everywhere. Business was booming!
Somehow, through nine presidents, River Place, and a fire in 1988, Nye's was never redecorated. Instead , Al focused his efforts on serving his guests high quality, reasonably priced food and drink in a fun, swanky atmosphere, always with a nice "Jumbo" cocktail until his retirement in 1994 at the age of 79. Steven Anderly took over ownership until 1999, when Nye's was purchased by brothers Rob and Tony Jacob. The Jacob brothers are committed to providing their guests with the highest quality food, drink and friendly service in a fun atmosphere and they will continue to preserve the legacy Al Nye created over fifty years ago!