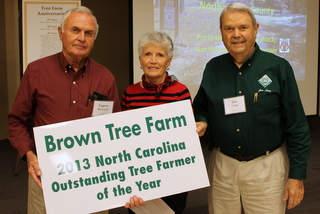 Eugene and Opal Brown were named the 2013 N.C. Outstanding Tree Farmers of the Year at the N.C. Tree Farm Program's annual meeting on Nov. 2. President Jim Long, right, presented the award and a sign for their Tree Farm.
Eugene and Opal's 787-acre Tree Farm in Northampton County has been under a forest management plan and in the Tree Farm Program since 1961. Their goal is to harvest and reforest 40 to 50 acres a year and to leave the property in better shape than when they acquired it. Eugene does 75 percent of the management work himself.
"They have taken their family farm and turned it into the best example of a working Tree Farm you will ever see," said Rodney Black, Northampton County ranger with the N.C. Forest Service. "Unlike many landowners, Eugene chooses to personally complete all upkeep and improvements on his property including bulldozer work, tractor work, mowing, chain sawing, hauling rock, maintaining drainage, bridges, herbicide work and road grading," Black said. "He and Opal are always willing to open their property to host tours, field days and show others the results of their labor and dedication to the land. Most landowners in the area look at the Brown farm as the absolute best example of good conservation and tree farming."
The Browns were featured in their local newspaper after winning the 2013 N.C. Outstanding Tree Farmer of the Year award. Congratulation's to Eugene and Opal Brown.
< Back to North Carolina Homepage