We have joined with the Ruffed Grouse Society to provide webinars related to managing for ruffed grouse in your woods. Together we are providing Tree Farmer with the tools they need to effectively manage their woods for a multitude of benefits, including wildlife.
Webinar Description
The Ruffed Grouse Ecology and Habitat Management webinar was held on December 1, 2011 The powerpoint presentation slides are now available. Watch the webinar below.
Dan Dessecker discussed why the ruffed grouse is of such interest to hunters and bird watchers alike, and how to enhance your woodlands for this unique bird and other wildlife of young forests.
Resources Discussed in this Webinar
CFE Credits
This webinar is eligible for 1 category 2 SAF CFE. These credits are available for one month after the original webinar date by watching the recordings. Please be sure to fill in your member information when you sign in to watch the recording.
Presenter's Bio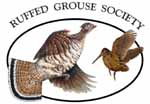 Daniel R. Dessecker is the Director of Conservation Policy for the Ruffed Grouse Society. He is responsible for the administration and development of the Society's conservation policy initiatives. Dan received a B.S. in Wildlife Management (1981) from the University of Wisconsin - Stevens Point and a M.S. in Wildlife Management (1984) from Penn State. His professional interests include the historical and current roles of disturbance in forest ecology and he has published extensively on this and related topics. Dan is past-president of the Wisconsin Chapter of The Wildlife Society and served as Chair of the American Wildlife Conservation Partners in 2003. AWCP is a consortium of 44 national wildlife conservation organizations that work to affect wildlife and natural resource policy at the federal level. He was appointed in 2006 by then Secretary of the Interior, Gale Norton, to serve on the newly established Sporting Conservation Council. The 12-member Council provides guidance to the Secretaries of Agriculture and the Interior on wildlife conservation and hunting.
Watch the Webinar
< Back